Our
5 Year Anniversary Month
continues (yes, a lazy way to not write new strips).
From
July 2008
.
"I hope we've passed the audition ...."
Confused? Don't be. Get in on the stupidity and *Thank you* for your participation.
BNCRITTERS.COM | CRITTERVILLECOVE.COM | TWITTER | FACEBOOK | SURF SHOP

Hey FACEBOOKers ..... join us at http://facebook.com/bncritters today.


The BuffettNews BN CRITTERS FORUM. Since March, 2008, the home of threads where eyerolls are welcomed, and by damb golly, encouraged.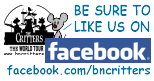 |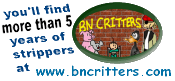 |
|