Tuesday, 9 April 2013
"Maybe you're the plucky comedy relief ...."
Confused? Don't be. Get in on the stupidity and *Thank you* for your participation.
BNCRITTERS.COM | CRITTERVILLECOVE.COM | TWITTER | FACEBOOK | SURF SHOP

It's never to late to leave a comment on the previous day's strip. Don't make me beg for participation.

Hey FACEBOOKers ..... join us at http://facebook.com/bncritters today.


The BuffettNews BN CRITTERS FORUM. Since March, 2008, the home of threads where eyerolls are welcomed, and by damb golly, encouraged.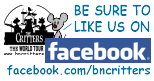 |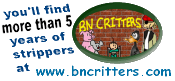 |
|